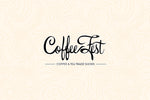 This past weekend, the whole One Village Coffee team made the trip to New York City to attend Coffee Fest. We have attended Coffee Fest in the past, but this year we decided to throw our hat in the ring and enter America's Best Espresso competition that is held there annually.
Once we got accepted into the competition, it was time to get roasting.  We wanted to develop a new espresso blend for some time, and thought this competition was a great opportunity to start crafting.  Woody (our Licensed Q Grader), Steve (Director of Coffee and Production), Cameron (Head Roaster), and Zach (Production Roaster), each crafted a blend to roast.  From there, we shipped out samples to our customers to gain feedback of what they enjoyed most. 
Based on the comments we received, the final product ended up being a blend of Colombia Jamir Quintian and Ethiopia Yirgacheffe YirgZ. We were able to practice pulling shots upon arrival to Coffee Fest on Friday. They provided the equipment, so it took some time dialing in the right grind size and getting a feel for the espresso machine, which was a beautiful Nuova Simonelli Victoria Arduino Black Eagle Vol. 2 group.
The first and second rounds were on Saturday and Steve was our barista on point pulling shots for the first day of the competition.  Each round, roasters went head to head in a bracket-style competition, while the barista had 10 minutes to provide a shot to each of the three judges.  Once the 10 minutes were over, the judges had the opportunity to provide feedback on the espresso presented. The judges grading criteria included flavor complexity/balance, mouthfeel & appeal/body, and aftertaste/session. 
It was an exciting time competing and being with other amazing roasters.  Our hearts were beating, anticipating what the judges would say. We moved passed the first two rounds and were now in the top 8 that would compete on Sunday. Steve had a trip scheduled to Costa Rica with our close partner and importer, Royal Coffee. He flew out early Sunday morning to visit farms, cup coffees, and bring home new offerings for One Village Coffee. At this point, Cameron stepped in to finish up the competition.
The first round on Sunday began in the early afternoon. Cameron had been watching Steve utilize the equipment and pull shots all weekend, but had yet to use the equipment himself. When Cameron was up to compete, this would be his first time to pull shots with the grinder and espresso machine that were provided. It was amazing watching him with a limited amount of time to dial in the shot.  He presented our espresso to the judges and we waited in anticipation and again moved on to the next round – we were now in the final four!
Being the first time entering this competition, we had little expectations for an outcome.  Landing in the top four felt like we had accomplished something great already. The next round was against Red Rooster Coffee Roaster in Virginia. The espresso was handed to the judges and the results came in – one vote for Red Rooster, one vote for One Village Coffee.  It was up to the final judge to determine who would move one.  The last judge had very positive things to say about both espressos, but ended up choosing Red Rooster. 
Our journey didn't end there, we still had the opportunity of getting third place!  We went up against S&D Coffee and Tea and received all three judges' votes landing us third place in America's Best Espresso competition. One of the judges had this to say about our espresso in the final round, "this is the best shot of espresso I've had all weekend." We were humbled and honored to receive feedback such as this by judges throughout the weekend, and we send a big congratulation to Red Rooster who ended up winning the competition.
One thing that stood out was how much of a team effort the competition was for One Village Coffee, which speaks to who we are. A reason One Village Coffee started was because we saw the power of community, which is the ability to accomplish more together than we can on our own.  This competition showed how we at One Village Coffee can accomplish more together than we can individually.  From Woody whose roast we based the final blend on, to Zach who roasted the batch we entered into the competition, to Steve & Cameron pulling the shots for the judges, to the rest of the team who were cheering every step of the way – we are one village!
We are excited to launch our new espresso blend that placed third in America's Best Espresso competition, and are working at finalizing the details – mainly naming the blend (all suggestions are welcome)! Be on the lookout for our new espresso to hit our offerings list soon.