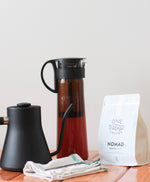 Cold brew season is upon us! We've been brewing cold brew at home this year and started thinking about all the different coffee options there are for this brew method. In case you need a little help selecting the right coffee for the job, we've made a guide (similar to our equipment guide) to help you choose your coffee based on the kind of flavors you normally prefer. 
One thing to keep in mind: because of the nature of the cold brew method, any coffee you choose will naturally have less acidity and will have heavier taste. If you prefer brighter iced coffees, check out our iced pour over brew guide here.
If you prefer a super dark, rich cold brew with a smoky flavor…
Try brewing with a dark roasted coffee - we recommend our Legend blend. This is our darkest roasted coffee, and the bold flavor and smokiness will shine through even more as a cold brew. If you love a little cream and sugar in  your cold brew, Legend is a great choice for a deliciously balanced-tasting treat. 
If you prefer a nutty cold brew with hints of milk chocolate and dried fruit…
Try out a medium roasted coffee with plenty of Latin American coffees in the mix. For this category we recommend our seasonal Nomad blend. This summer's iteration of Nomad includes coffees from Peru, Brazil, and Ethiopia which makes cold brew that is rich and chocolatey, buoyed by a slight fruit acidity. It's complex on its own, but still tastes great with added cream and sugar. Nomad is by far our staff's favorite home cold brew coffee to date!
If you prefer a cold brew on the citrusy side…
Try a coffee blend that has some African coffees. We recommend using our Villager blend, a combination of Ethiopian and Colombian coffees. Villager's heavy citrus and caramel flavors come through in this cup and make for a crowd pleasing, brighter cold brew experience.
This is by no means an exhaustive list but will hopefully get you started on your cold brew coffee journey. Let us know in the comments below which coffee you choose!