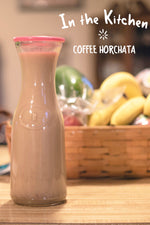 Refreshing, sweet, and a great pick-me up! I love taking original recipes and seeing how I can infuse coffee into them. Thus, this takes us to our next In The Kitchen coffee recipe...Horchata! What better way to try this out than with our latest spring seasonal blend, Nomad.
This iteration of Nomad features the best of both worlds in the realm of Ethiopian coffee, washed and naturally processed combined. In this medium roasted blend there's something for the fruit bomb fans and the acid junkies alike. Gera Estate Natural brings ripe, syrupy berry character and the washed Kochere brings citrus zest and clarity where the Gera goes murky. The pairing drinks like a tropical cocktail at a swim up bar, it's refreshing, fruity and playful. And it rules iced!
Now back to why we're here...Horchata (orxata) | "What is it?", you may ask. Good question! Horchata is a milky drink made from either almonds, rice or nuts!  In the recipe that I recreated you'll find rice, cinnamon, sugar, water and last, but not least, coffee.