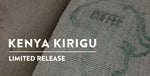 Every couple of months we get together as a team to cup different coffees that we think could be awesome to offer as single origins.  For February, we had no problem deciding on Kenya Kirigu. It rose above the rest on the cupping table because of its depth and balance. 
Kenya Kirigu has an upfront citrus acidity flavor with a zingy raspberry quality that is carried by a dense and creamy body.  We also have to mention its endless sweetness!  Our favorite way to brew this coffee is with the Melitta Brewing Vessel. 
The exact origins of this lot are somewhat elusive. It was purchased through the famous Kenyan auction system at the Nairobi Coffee Exchange under the name Kirigu.  The Nairobi Coffee Exchange is a computerized auction allowing importers and roasters to sample select Kenyan coffees for about a week, then they are auctioned.  Each bidder is given a buzzer and when the coffee is shown on screen, they use the buzzer to bid on the coffees they liked the best.  It is a great tool that farmers can use to showcase their best coffees.
Despite our best efforts, we have been unable to determine if Kirigu is the name of an estate, washing station, or co-op.  Further information about this coffee seems to have been lost in the shuffle, but that didn't hold us back from picking up a few bags.  We simply couldn't resist the opportunity to roast Kenya Kirigu, despite its mysterious origins, because the taste is undeniably fantastic, well balanced, and velvety smooth. We hope you love this coffee as much as we do.