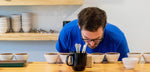 Last week I sat down with Stacy, our Customer Support Coordinator, in hopes to introduce her to all of you. This week I've done the same thing, but I will be introducing our next vital team member. He's an incredibly hard and dependable worker, as well as thee jukebox master in our production warehouse! Now it's time to say hi to Ben.
1. What is your role at One Village Coffee?
I roast coffee
I package coffee
I send it to our happy customers
2. How long have you been in the specialty coffee industry?
About three years
3. What was it that initiated your love for coffee?
I've enjoyed coffee for a long time, but I became fascinated with it while on a trip to Panama with my dad.  We helped our friend who owns a small coffee farm by roasting his coffee harvest.  Traditional methods were used under the instruction of a local indigenous man.  We roasted coffee all day over open fires using large pots and stirring the coffee constantly with long sticks.
It was quite an amazing sensory experience: watching the coffee change colors from green, to yellow, to golden brown, to a chocolatey brown.  The aromas were incredible as the coffee roasted over our fire, smells like cut grass, fresh baked bread, and roasty campfire.  Even listening to the coffee was exciting as it popped into "first crack" like popcorn and then later like rice krispies in "second crack".
I was hooked!  When I returned from our trip I built my own home roaster and started roasting coffee on the porch.  It wasn't long until I sought out a job as a coffee roaster and now, here I am at One Village Coffee.
4. What is your favorite coffee to drink or your favorite way to brew coffee?
That's like, "What's your favorite dessert?"... too hard to choose just one.  However, right now I'm loving our Single Origin Guatemala from the Chochajau region (that's a fun word to say).  It tastes bright and juicy with a nice touch of natural sweetness with a clean aftertaste.
If your coffee is freshly roasted like ours, and you pay attention to your ratios (water to coffee), and you grind the beans just before brewing, use any brew method and your coffee will taste outstanding!  Honestly, I typically just use my home drip brewer and the fresh roasted beans make all the difference. 
5. Tell us a random fact about yourself?
Since father's day is coming up, I'm quite excited to share that I will become a dad for the first time later this year!
Congratulations Ben, and Happy Fathers Day!