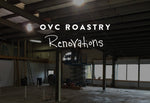 Throughout the years, One Village Coffee went from a basement, to a garage, and then finally a space large enough that had allowed us to grow.  The next stage of our journey started at the end of last year, when our current working space was bought.  As we tried to figure out what would be next, we were offered the chance to stay and that become our favorite option.  We couldn't be happier with this decision, as it meant we were able to design a space that fitted our needs and personality exactly as we want and need it to be.
Before the demo process began, the above pictures show what the entry way looked like, and as you can see, a lot of work needs to be done!
Phase 1 started a few weeks ago.  Fortunately for us we will to be moving only to the other side of the same building we are in now. Meaning, we can stay put until the renovations are complete. However, this also means that we get to experience every loud noise & power interruption that happens on site.  Even in the midst of this chaos, the anticipation continues to get the better of us, and the creative inspiration is starting to flow. 
Our new space will consist of office space, warehouse space, a retail market, and even a brand new coffee lab for sample roasting, cupping classes, and barista training classes.  We want to maintain a buzz throughout our work space, whether that comes from our roasters or from the people in and out of our office.  One Village Coffee is a Village, and we want our new space to reflect that vision.
Follow our journey with us by using #ovcrenovates, and we will update you every step of the way!  
 Until next time ~Jess L.