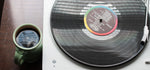 Music makes the world go round. (You may have heard money does [Hat tip to composer John Kander] but we respectfully disagree.) Like our coffee, each note we connect to in a song takes us on a journey. We're always looking for new tunes to drink coffee to. With that in mind we asked you, our amazing Villagers, to share your favorite coffee-drinking songs with us on Instagram. We even gave away a Villager prize pack to celebrate! The response was amazing and inspired us to build the One Village End of Summer playlist. 
Your music submissions are diverse and energizing. Some songs are soothing, like the fruit-filled light roast of our Ethiopia Shakiso. Other songs offer a striking approach to kick off the morning, the same as our dark roast Legend blend (The combo of dark chocolate and a bittersweet smokiness from Latin America is amazing.) Combined, the Villager-inspired playlist is an inspiring example of how we all connect through our love of coffee.

Keep the song recs coming, Villagers, by messaging us on Instagram and Facebook. We hope this will be a soundtrack for the rest of your summer. 

Listen to Villager Music: Summer 2020 here!
A special shout out to the Villagers for their contributions! Listed below are some songs from the playlist along with those who suggested them.
Morning has Broken by Cat Stevens / @amacey66
Coffee by Sylvan Esso / @jonarm9
Monday, Monday by The Mama's and the Papa's / @rustyobra
Holocene by Bon Iver / @autumnwine79
Black Coffee in Bed by Squeeze / @tore_down
Coffee by Quinn XCII / @ariellemaiuro
Good Morning by The Beatles / @benlikesmovies
Algo-Rhythm by Randy Mason / @yasmeenaazer
Black Coffee by Nightly / @leeamae
Banana Pancakes by Jack Johnson / @foodjawnsoflife
Location by Khalid / @_juliaaa_23
Good Vibes by Chris Janson / @nicole.fft
Love in the Milky way Cafe by 10cm / @aileen_o