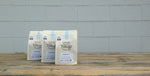 Over the years One Village Coffee has offered two decaf blends, House Decaf and Espresso Decaf. The blends have often shared ingredients and lately they have become identical twins! Thus, we are merging the two decaf blends. The new decaf blend will take the name House Decaf and will be the go to decaf blend for all brew methods, from drip to espresso.
If you have been using Espresso Decaf you won't notice any change in flavor profile! You'll still be getting the same coffee, it will just have a new name.
Here at One Village Coffee, we're dedicated to roasting great decaf coffee along with our regular offerings. I once heard a roaster explain why decaf was important to his company. He said, "decaf coffee drinkers aren't looking for caffeine like most coffee drinkers, they're drinking decaf solely for flavor, therefore a roaster ought to make doubly sure their decaf tastes great." That idea has stuck with me and informed my approach to decaf coffee as a roaster.
We're saying goodbye to the Espresso Decaf name, but our commitment to great decaf isn't going anywhere!