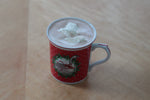 Peppermint Mocha has become a staple of the holiday season and immediately brings to mind warm memories of sitting by the fire with family and friends, admiring houses adorned with twinkling lights, and looking for the perfect gift for those we love. One Village Coffee loves to help make your moments merry, so we spent time in the One Village Coffee Lab to create the ultimate Peppermint Mocha recipe. If you loved our Legendary Pumpkin Spice Latte this fall then you're going to be through the roof (up through the chimney, of course) on our adaptation of this holiday favorite. It's a rich recipe you can make easily at home and as a bonus, it incorporates our seasonal blend, Share. Your purchase of the Share blend helps our partnership with World Central Kitchen to provide hot meals to 1,000 people who need it most. Your drink is truly a gift to others this holiday season. 
Check out our recipe below and let us know what you think. Be sure to pass it on to those closest to you, as it's the season of giving. Share your creations on social media and tag us on Facebook or Instagram at @1villagecoffee to show off your creation!
Ingredients
For the coffee concentrate:
25 grams of One Village Coffee Share blend
200ml water
For the peppermint mocha base:
¾ cup of milk 
One packet of your favorite hot cocoa mix
⅛ teaspoon of peppermint extract
(Optional) for the whipped cream:
½ cup heavy cream
½ tablespoon of sugar
⅛ teaspoon of peppermint extract
Step 1: Make the whipped cream
Combine heavy cream, peppermint extract, and sugar in a chilled flat bottomed bowl. Stir vigorously with a whisk or a hand mixer. Whisk to soft peaks. Chill until use.
Step 2: Make the coffee concentrate
The easiest way to brew your concentrate is using a pour over method of your choice. If you don't have a pour over method, you can use a drip brewer, but because of the larger brewing format you'll want to increase the amount of coffee to 75 grams (5 tablespoons)  and the water to 600 ml (2.5 cups).  Grind and brew as you normally would.
If using a pour over method, grind your coffee as you normally would, but brew for the length of time you would brew a regular strength pour over. For example, if you brew a normal strength cup of coffee for 2:30 min, pour for the same amount of time to make the concentrate. This will ensure the coffee isn't under extracted. 
Why it works:
Normally when brewing coffee, a 16:1 ratio of water to coffee makes for the best strength and flavor. With this recipe, we're cutting that ratio in half to 8:1. The coffee is double the strength of a normal brew, meaning it will cut through the peppermint mocha base.
Step 3: Make the peppermint mocha base
Combine milk, peppermint extract, and hot cocoa mix in a small saucepan. Stir to combine and warm until desired temperature is reached. 
Step 4: Assemble and enjoy!
Mix your coffee and peppermint mocha base in one cup. Top it off with whipped cream or marshmallows if desired, and add in a peppermint candy cane as a fun stirring stick or added boost of peppermint. Then, it's bottoms up! Share the love and recipe with others. Drink and repeat!