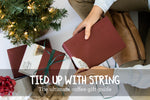 "These are a few of my favorite things"
As I sing this ever popular tune in my head, I can't help but think of what a few of my favorite coffee related items truly are. So I challenged myself, put pen to paper, and now I present to you the ultimate coffee lovers dream. 
1. 80+ Point Coffee
You may have heard us at One Village Coffee mention a thing or two about what specialty coffee really is. Much like 90+ point wine, coffees taste different from one another. A lot goes into what reaches your cup and the fun part of exploring actually requires no prior knowledge! Simply try it. After all, we were specialty coffee newbies at one point!
2. Drip Coffee Brewer
Honestly, a drip coffee maker (as pictured below) can be a simple, easy, and delicious way to make coffee at home! You'll find one in most of our homes, ready to go at a moment's notice. So, if you're not ready to take the plunge with pour-over coffee makers (I know they seem a little daunting) then stick with what you know!
3. Burr Coffee Grinder
The moment I realized how evenly ground coffee effected my morning cup of coffee was the moment that my coffee game changed for the better!  I was stunned with how consistently delicious my coffee became once I switched to a more accurate grinder. Now I won't ever use anything other then a burr grinder. 
4. Scale/Timer
As I mentioned regarding a burr coffee grinder, consistency in the steps you take to prepare your coffee truly makes a difference in how it tastes. Therefore I encourage you to invest in a simple kitchen scale. Basically, it comes down to ensuring accuracy, and using the same amounts of coffee, water, and time with each preparation will help to highlight the unique notes that each coffee has to offer!
5. Pour Over Brewers
Now the fun begins! Every step of my coffee journey came about after I changed my usual coffee routine. It's been fun exploring all the coffee brewing methods to find that one ritual that works best for me. The more I explored, the more familiar I became with coffee as a whole, and the more confident I became on my coffee journey.
6. Simple Kits
Now that you've read all the way, this far down, here are a few other fun suggestions you may want to try (or hint at so you can find it under your tree this season).
Subscription

 

to receive your favorite coffees right at your door
Be creative by putting together a personalized gift basket full of grinders, scales, pour over brewers, etc.
I hope these items will help point you in the right direction as you start shopping for those you love, for a white elephant gift (trust me, your gift will be the most popular), or as a simple gift for yourself. Whomever it might be for, happy shopping!