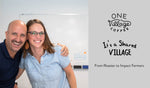 Our mission since 2007 has been to connect the farmer, roaster, and coffee drinker. After operating independently for over 10 years, we recognized the best way to make this a reality was to join forces directly with farmers. As of August 2018, One Village Coffee has merged with Shared-X! (In the above photo is Tony Salas, Founder & CEO of Shared-x [left] and Andrea Hackman, President of One Village Coffee [right])
Shared-X is a hub of farmers working to make an impact in the areas of community, environment, and health. Backed by impact investors, the model strives to create access to markets and share innovative agronomic techniques with smallholder farmers to increase crop yields for a variety of crops, including cocoa, banana, pineapple and coffee. With the increase in quality of crop and yield, smallholder farmers' profits increase.
To us, Shared-X aligns with our vision and values of creating high quality products with the deepest impact socially & environmentally. That is why we became a founding member of B Corporation. It's why we've worked alongside the COMSA co-op in Marcala, Honduras through the Bee Project and The Orchard School. It's why we pioneered a new type of bag to include a resealable zipper and block bottom functionality, and why we have donated coffee for every meal served to an organization in Philly that feeds the homeless. Our vision has always been about making an impact.
Shared-X is making an impact in a way we would never have been able to accomplish on our own. They are farmers living and working in coffee farming communities. Allowing us the opportunity to make a richer impact, one that we've always dreamed of. Thus, we couldn't be more thrilled to partner with these amazing individuals.
To Shared-X, One Village Coffee aligns with their vision of creating a vertical supply chain from the farm to the consumer. Brandon Woods, Shared-X's Business Development Executive commented, "We looked for a partner in specialty coffee who shared our values, had a strong brand presence, and healthy distribution channels. We are excited to take the next step and officially welcome One Village Coffee to the Shared-X family."
(Above) Alex & Jean Pierre from Shared-X with Steve from One Village Coffee at Finca Matapalo in Peru
As a part of the Shared-X family, we will continue roasting specialty coffee in Souderton, PA and I will continue to serve as President. Expect to see Shared-X coffee from Finca Matapalo offered as a single origin coffee, as well as an ingredient in a few of our blends. Expect to see growth, hear more stories directly from farmers, and continue to connect with the familiar faces of our One Village Coffee team. Most importantly, expect the profits of One Village Coffee to go back to the Shared-X organization, continuing to increase global impact to smallholder farmers.
And, THANK YOU for being a part of our Village! It wouldn't exist without our customers to enjoy the coffee we craft. Let's keep dreaming of a better world, working together, believing in the good of each other. Look for more stories to come soon and, in the meantime, check out Shared-X on Facebook and Instagram.
With big hearts and cups full of coffee,