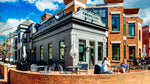 Ebenezers Coffeehouse has a remarkable story. Originally founded in 1908, the same year as the Model T Ford, the company lives and breathes the coffee with a cause spirit. Not only do they exclusively serve fair trade coffee, all of the company's profits go towards community outreach projects, locally and internationally. It was a no-brainer for One Village Coffee to partner with Ebenezers, and we're honored to be their main roaster.
We took some time to chat with the Ebenezers team to hear about their focus on humanitarian causes, and they discuss how they've continued to provide coffee and compassion to both their community and the extended Village.

What makes Ebenezers unique from other coffeehouses?

Ebenezers is focused first on our ability to serve others through our coffee. 100% of our profits support efforts to help our neighbors here in Washington, D.C. and throughout the world. That mission mindset extends to all that we do.
What stands out to you about Ebenezers' relationship with One Village Coffee?

We take every effort to align our business relationships with organizations that want to make a difference. We love that our relationship with One Village allows us to go beyond Fair Trade in sourcing great coffee for our guests. What's better than knowing that farmers own the roastery that helps us serve others? 

Learn more about the Shared-X Impact Farming model and how it upends the traditional farming model in the coffee industry. 
Ebenezers donates 100% of profits to humanitarian causes. What cause are you currently focused on?

We are humbled to be a part of the community making a difference in our neighborhood right now. At the outset of the pandemic, we were excited to host daily meal service in cooperation with the D.C. Government. While that has evolved, we are proud that we can support a weekly meal and that our Give-a-Cup program allows our guests to help their neighbors in need with free coffee on these cold days. 
How has the coffeehouse navigated the current pandemic?
COVID-19 has not ceased to offer up challenges in every sphere of life! We have been incredibly fortunate to remain open throughout this season. Our navigation strategy has focused on a strong commitment to the safety of our guests and staff, and serving exceptional coffee exceptionally well. Keeping it simple, communicating often, and caring for one another has been essential for us.
How would you describe the Ebenezer community or "Village"?

Ebenezers is a family. We start with our staff, by looking for ways to be good to one another, and that naturally extends to our neighbors and guests. We work to go the extra mile and to make even a small positive impact on everyone that walks through our doors.

Learn more about Ebenezers Coffeehouse and their story, online store, and sensational menu at their website here.
Want to partner with One Village Coffee for your roasting and coffee needs? Email us at joshua@onevillagecoffee.com.